Laser Engraved Swag!
I don't know about you guys, but I tend to get pretty excited when I hear about the possibility of some new Locksport swag; so I'm usually on the lookout for ways to make or purchase items to show my support. Last week the owner of a local antique store (and also a friend of mine) sent me into a near sprint towards the back of her store was when she told me how she had just acquired a new laser-etching machine.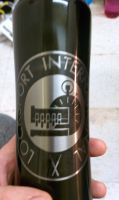 Of course the first thing that came to mind was "what can I put a Locksport image on?". So Bobbie, my friend, and I went searching the Internet for an acceptable image as a template (sorry Doug, the stripper straddling the lock pick just didn't seem appropriate). The image to the left is our final product.
This image was made with the photo of Doug wearing the new Locksport shirt. For what we had to work with, I think it came out pretty well. Bobbie explained to me that she could etch this image (or any other images) onto just about any surface for a great price. If anyone is interested in a water bottle or other item like a cell phone case or pick case, please let us know!
- 11/03/10 Fred Westermeyer (President, L.I – Columbia, MO)