April 2010 Locksport Person of the Month: TJ Weaver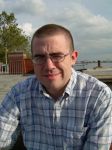 TJ was nominated and selected to debut the Locksport Person of the Month distinction for his outstanding contributions to the locksport community. TJ, known on www.lockpicking101.com as tjweaver84, has been interested in lockpicking since high school. He is now 25 and nearing the end of a 6 year stint in the Navy operating nuclear reactors. TJ is known in the community for his work at finding a vulnerability in the Abloy Protec, known by many as one of the most secure locks ever made. I asked TJ to discourse the events that lead up to his discovery and this is what he wrote:
"….I got the Protec so I could learn how they work. Within minutes of getting the package at work, the Abloy was in about a million pieces. It took about 3 hours to reassemble it but I learned a ton about the lock. Then a couple nights later I was lying in bed when an idea struck me. The lock was already apart and on my desk so I started playing with the disc blocking system with the lock removed from the body and figured out a process that may someday be used to open the Protec consistently."
TJ doesn't claim to be able to pick the Protec consistently, but he has demonstrated his technique successfully at least once. In the meantime, he is in contact with the manufacturer, Abloy, to implement a fix.
More information on TJ's findings can be found here: http://www.tjweaver84.com/protecpicking.php
- 04/19/2010 - Doug
TJ Weaver lives in Greenville, North Carolina with his wife and child. He is interested in computers, electronics, R/C stuff, locks, Amateur Radio, building stuff, outdoors stuff, and bonsai trees. He would like to be contact by others in the area interested in sharing his interests with locksport. tjweaver84@tjweaver84.com