Locksport Shirts for Sale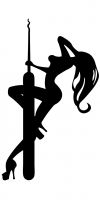 Sexy new Locksport shirts now available in a wide range of sizes to fit your needs. These shirts are American Apparel - 2007 Fine Jersey Long Sleeve T-Shirts. Their ultra comfortable, 100% cotton design makes them great for both summer and winter. If you are a member of Locksport International, see your chapter president for discount information.
All proceeds go directly towards legal fees to make L.I an offical 401c3 (non-profit) organization. Shirt orders are fulfilled by our friends at Security Snobs and can be found here.
- 05/09/2010 - Doug